(Full disclosure – I stole this title from one of my favorite authors of kid's books, Judith Viorst, because, well, stealing is a terrible, horrible, no-good, very bad choice. I hope this confession redeems me.)
We're not talking about regrettable tattoos, people. Although, if you trusted a tattoo guy who never got past the third grade– well – you're a bonehead! Let's move on.
We're talking about serious, life-altering, fast-track-to-hell choices. If you can look me straight in the eye and deny you have ever made any decisions that tipped your halo sideways I will be the first to recommend you for canonization to sainthood. Oh, not Catholic? Then, sorry, you'll just have to settle for hopes of an honorable mention (which comes with no monetary rewards).
Now, know that I am not talking about the likes of the Catholic baby, later confirmed, Hitler turned adult monster. There can't be any doubt in most people's minds that he did not pass GO and did not collect $200 on his way to hell. Right? Or at the very least still resides in Purgatory because his momma was the only one who may have wanted to pray him out of there but she died long before him. Never mind him. If you think for one minute that Purgatory will be your saving grace. Well, that's a major attitude fail on your part and God will side-eye you every time you knowingly sin and make no corrections.
It seems the idea of Purgatory came to life in the late 1100s. Thomas Aquinas and the Church quickly latched onto the concept. Aquinas likely had a personal stake in it because he was a no-good, very bad boy in his early days and the Church quickly realized it was a money-maker for them. Pay to play. Cha-Ching. In my humble opinion though, Purgatory makes no sense. Let me tell you why I believe that.
Several years ago, I went through a year-long training to work with hospice patients. The most profound learning for me came from reading books written by nurses and doctors who worked for years with hospice patients. First off, they believed, as I do, that anyone who sits with someone taking their last breaths should remove their sandals because they are standing on holy ground.
During the time I sat with dying patients I only witnessed two deaths. Both experiences were intense for me and I came away with a much different belief about the idea of "cleansing" than what the Catholic Church teaches. I watched the process evolve to the final stage when they were given morphine. At that point, they seemed incapable of any type of movement or communication, let alone a deathbed confession.
BTW, deathbed confessions raise all sorts of anger among the snobby self-righteous. Being certain that sinner is destined for hell secretly makes the rest of us happy knowing they didn't get to live their whole life being a total ass and then received an eleventh–hour Get-Out-Of-Jail-Free card. NOT FAIR!
Anyway, though I had not known anything about those two people prior to their deaths it was clear that something was happening within them that I was not privy to. There was restlessness – not a sense of peace – not until the end. In both of those situations, I had an opportunity to meet briefly with a family member before I left. In each case, they shared the struggles their loved one had during their life.
Do these encounters prove anything? No. But, I came to believe, as I still do, that if cleansing is an actual thing, it probably happens in those moments just before we die. Who knows? As for me, I decided long ago to hedge my bets and make course corrections in the moment I know I did or said something mean or unkind to someone. And if you're still hanging out there waiting for an apology from 1985, call me and we'll meet for lunch while I beg forgiveness.
When God says, "I love you and there's nothing you can do about it" he means it. But that doesn't mean he won't roll his eyes or admonish us when we screw up. It means we can go to him trusting that he will forgive and forget our stupidity. Those we have hurt may not be so gracious, but that doesn't change anything. I don't know about you, but I really don't want my indiscretions to cause God to do a head smack and question the wisdom of creating a doofus like me and then take some big ole God-sized eraser to my sorry self. Even if for a split second he thought about it. I mean, do I dare bring up the antics of Moses to take the pressure off myself? Sure. Why not?
I think Moses got a raw deal. If it was me, I would have bid those cranky Israelites adieu early on, "I'm done here. You guys are on your own. Good luck!" Remember Moses tried to worm his way out of God's calling to lead them (Exodus 3:1-12:42). Maybe he later agreed because of a bigger-than-life ego. "When I get these guys to the Promised Land they will surely erect a statue of me and bow to me profusely! It will be epic!"
But, toward the end of those forty long years, he totally lost it. It wasn't what he expected and what with all the whining and complaining about everything and blaming it all on him, "no food – your fault! No water – you're fault!" Their anger slammed up against his vision of them worshipping at his shrine. So, what does he do? What any self-righteous, self-serving guy would do. He begged God to "DO SOMETHING! I can't deal with them anymore!" So God sent him back to wave a stick around in front of a rock, and then he (God – not Moses – a small detail Moses left out) would make water pour out from it.
Anywho, Moses thought that was a terrible idea. So, he devised a better plan when he remembered seeing this witch doctor work some magic on a Netflix special back in Egypt. Back when they had the Internet and modern conveniences and stuff!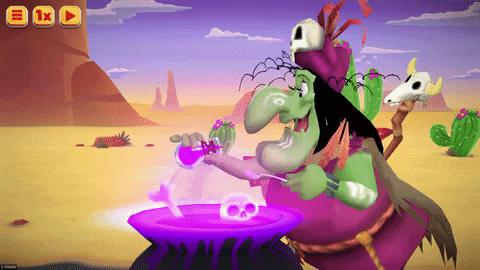 Everyone thought he was to blame for all their problems. Fine. He would show them how powerful and mighty he was. The poor guy probably still had abandonment issues from that whole baby-in-the-basket-in-the-river incident, so this seemed like a great plan to bolster his sense of self. Surely they would bow down and worship him then.
So instead of waving the stick around in the air, he beat the crap out of the rock with it, and voila water poured out! The people went crazy! Yeah, it was all fun and games until God stepped in.
Personally, I think Moses possessed some HUGE nerve in his life. In a temporary lapse of judgment, he did some awful things, like, I don't know, defying God and then getting all up in his business. And, lest we forget, in the end, his antics kept him from joining the Israelites in the Promised Land. That ship was sailing without him. (BTW, I don't recommend you use this material in a Sunday School class. It's all made up. You've been warned.)
So, now, put on your big boy/big girl pants folks and gird your loins cause it's up to you how the rest of your life will play out and your journey will end. I have had regrets in my life and will probably have more because that's the foolish me who can't seem to learn the first, second, or zillionth time! But, God still forgives a zillion + one times, if that's what it takes.
I would just recommend that you don't stand before him with unfinished business and a shit-pile of complaints from those you didn't treat right along the way. Because, again, no one knows what that encounter will be like and who wants to be handed a fireproof robe and a one-way ticket south, especially if your momma isn't around to pray for you, you little schmuck? So clean up your mess and make better choices from now on! GEEEZO!